The Faces of Today Awards recognizes outstanding individuals involved in the various facets of the UBC community.  Established in 2010, the Faces of Today Awards are featured through a collection of videos at the Opening and Closing Ceremonies, in the aim of recognizing the achievements of UBC students, invoking inspiration, and sharing their leadership experiences to all conference delegates.
2014 Faces of Today Award Winners
Robert Morton
5th year Land and Food Systems
One could easily describe Robert Morton as a social entrepreneur. The main reason being his momentous work in dawning The Calendar, a ubiquitous player within the campus community and his very own innovative solution to omnipresent social problem. Getting his start in first year as a Floor Rep and then as the elected Dene House President the following year, Robert has always strived to create a closer-knit community with his peers. His involvement on campus has since then extended to his positions as the AMS Firstweek Coordinator for the UBC Alma Mater Society and as a Student Business Leader with Sauder Ethics & Integrity Initiative. Through his noteworthy leadership  with The Calendar, Robert has facilitated projects such as the UBC Harlem Shake and taken on a promotional partnership with the AMS Block Party and Welcome Back BBQ. Robert's involvement with the campus community has earned him not only the genuine respect of his peers but has also allowed him to create meaningful and positive changes at UBC. The idea of "Be Infinite" extends to our notions on the ideal type of leadership. The thing is there is no one true mould that makes for a great leader. There are numerous different examples of excellent leadership on campus, and Robert Morton is without a doubt one of them.
Cecilia Montauban
5th year Science
After having arrived to UBC Vancouver in 2009, Cecilia Montauban quickly realized the huge gap in the representation of international students within her campus community. This consciousness inspired Cecilia to take the initiative in addressing the need for furthering international student involvement. Described by her peers as a determined people person, driven to motivate others and tackle new sorts of challenges, Cecilia has proven her effectiveness in leadership through her intensive participation in numerous initiatives on campus including UBC Orientations, Jumpstart, Imagine Day and the International Students Association. During her early years at UBC, Cecilia helped in spearheading efforts such as i.Lead, a network of support for international students and the UBC International Scholars Retreat which has achieved monumental milestones in the past 3 years since its inception. Cecilia Montauban's assertive and positive character in realizing and addressing her community's needs while seeking to motivate her peers around her undoubtedly makes her a well-deserving recipient of the UBC SLC 2014's Faces of Today Award.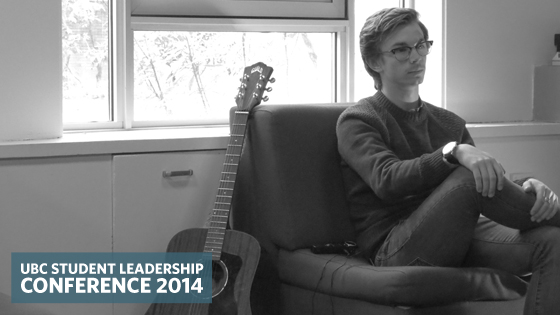 Aaron Bailey
3rd year Science
Having been inspired by his peers to take on leadership roles during his time at UBC, Aaron Bailey took the leap in his first year to run for an executive position for the Science Undergraduate Society (SUS). To his excitement, he succeeded in securing a position with the SUS during his first year and now, in his third year in Sciences at UBC, Aaron was elected as the President of the society. In the same way that his peers mentored him to take on more leadership roles, Aaron continually inspires others in achieving the best of their capabilities. As a current Residence Advisor at Totem Park and a Senior Student Ambassador for the International Student Initiative office, Aaron without a doubt has taken it upon himself to make the most of his here at UBC. Furthermore, he has been instrumental in spearheading the UBC Bike Rave initiative which strongly contributes to the strengthening of our campus community. The UBC SLC is very proud to present Aaron Bailey as one of this year's Faces of Today.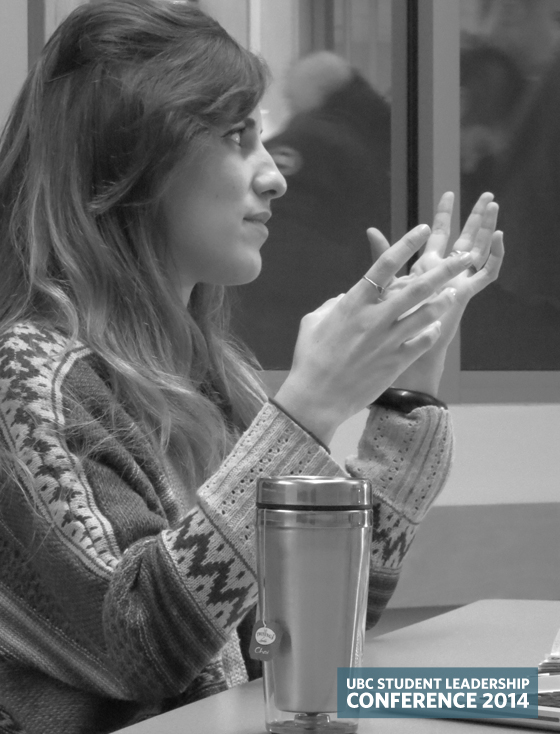 Olivia Sanchez
5th year Forestry
OIivia Sanchez, a 5th year student in the Natural Resource Conservation Program in the Faculty of Forestry, looks to expand her horizons and augment her education at UBC in every imaginable way. As the current co-chair at the International Forestry Students Association (IFSA), Olivia heads the the organizing committee for the International Forestry Student Symposium 2014, the largest gathering of it's kind in the world creating a platform for students around the world to connect, share ideas, and create dialogue. Olivia is also someone who has taken her experience at UBC beyond the geographical boundaries of Vancouver, having pursued academic and learning possibilities in countries such as China, Chile and Singapore. In the past, Olivia has also been heavily involved with the International Students Association as the Vice-President and has held an imperative hand in coordinating the implementation of the Tandem program at UBC, a peer-to-peer language learning network. This strive for extending one's reach beyond boundaries and pursuing endless possibilities is what has regarded Olivia as a well-founded recipient of the UBC SLC Faces of Today Award 2014.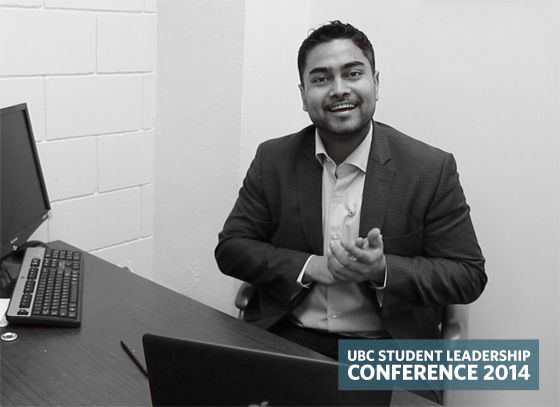 Harsev Oshan
4th year Arts
Harsev Oshan is currently the Shinerama Coordinator for the UBC Alma Mater Society, holding a plethora of experience in student involvement prior to taking up this position with the AMS. Since his first year at UBC as an International Student and recipient of the International Leader of Tomorrow Award, Harsev has deeply immersed himself with the Arts Undergraduate Society, starting off as a Social Coordinator and eventually being elected as the President of the AUS. In addition to his involvement with the AUS, Harsev has been greatly present in the Greek community at UBC, holding much of his experiences as resulting from his participation in the Sigma Chi Fraternity. Harsev has held numerous positions for the Sigma Chi fraternity, ranging from House Manager, to Alumni Relations Coordinator and the president of the Inter-Fraternity Council of UBC. Harsev sincerely embodies the ideas of what an effective leader is able to achieve, one that is capable of inspiring and motivating his fellow community members to make the most out of their time here at UBC.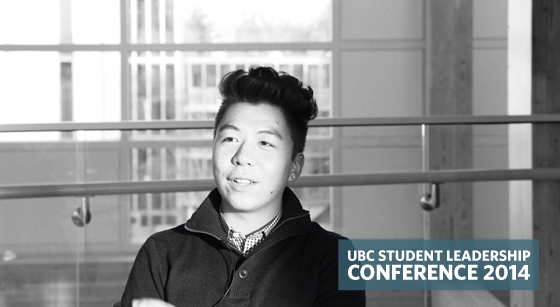 Kai Okazaki
4th year Forestry
The term sustainability is essentially synonymous with Kai Okazaki, a 4th year student in the Faculty of Forestry. Fueled by an imperishable supply for passion for environmental sustainability, Kai has taken it upon himself to facilitate and coordinate numerous activities and programs on campus. Currently, he is the Student Coordinator for Sustainability in Residence for over 9400 students in 13 complexes through which he has spearheaded the Do It in the Dark competition, an energy and water conservation project for students in residence. In the past he has held coordinator positions for Common Energy UBC and has been involved with the Bottled Water Free UBC Campaign Committee. Kai has also taken part in the AMS New SUB committee and the New SUB Sustainability Working Group. Oh and did we mention that he has been a featured artist of the Black Vinyl Project and was an Anthem Singer for the UBC Thunderbirds? Without a doubt, Kai Okazaki personifies the notion of "be infinite" and endless possibilities, which is why the UBC SLC is extremely proud to honour Kai with this year's Faces of Today Award.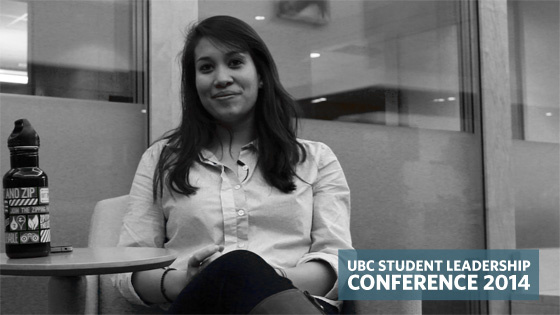 Chloe Tarbet
5th year Commerce
Chloe Tarbet is the current Team Co-Captain for the JDC West Business Competition leading a team of 50 business students in coordinating the 3-day business competition for the top business schools in Western Canada. Known by those around her as a prominent role model, mentor and a paramount source of inspiration, Chloe has invested her time and efforts to make the most of her experience at UBC, empowering others to do the same in the process. With past involvements volunteering for Sauder FROSH, the UBC Student Leadership Conference, UBC REC and two years of Resident Advising for Rez Life, Chloe legitimately reflects the endless possibilities that are available to all students at UBC. Chloe is an exemplified reflection of leadership at UBC who has found something they truly care about and has made a marvelous impact on campus through their passions and interests. Because of this, the UBC SLC is beyond proud to award Chloe Tarbet as one of this year's prestigious Faces of Today.
Francis Arevalo
4th year Arts
Francis Arevalo honestly believes that the definition of being a leader at UBC is not dependent on the title you hold in your co-curricular activities, your academic excellence or the amount of authority one holds in any position. Rather, he regards leadership as based on the extent to which one is genuinely invested and passionately involved in the sustainable development of their community. A 4th year Arts student, Francis' on and off campus involvement is deeply lended to the artistic community at UBC and Vancouver. Currently, Francis works as a Social Media Manager and CLC Assistant at the Chapman Learning Commons and is a Residence Advisor for the new Ponderosa Commons. Furthermore, Francis is the founder of A Night with Friends, a talent showcase that brings in innovators, creators, and trailblazers from Vancouver's artistic community. The UBC SLC is very proud to present Francis Arevalo with this year's Faces of Today Award as we strongly believe that his passions and interests are what strengthen and drive his capabilities as a leader.
————————————————————————————————————————————————————————
Have questions or inquiries regarding the Faces of Today Awards? Please contact our Awards Coordinator, Aljhon Lorenzana at aljhon.lorenzana@slc.ubc.ca.