From the sidelines to the forefront:
Sustainability on Campus with Common Energy and LGBTQ visibility with City of Colours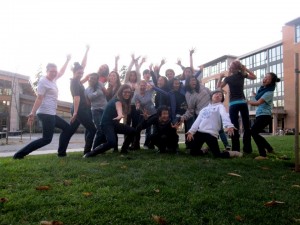 Common Energy UBC
Quinn Runkle and Kyuwon Kim
http://commonenergyubc.wordpress.com
Common Energy UBC works to bring the campus community beyond climate neutral. This means that our work goes beyond the scientific and technological definition of carbon neutral to create a community of sustainability at UBC.
Common Energy operates as five sub-groups, each with a distinct focus. These are: Food, Tangible Solutions, Challenges, Dialogue, and Education. Respectively, these teams address local food issues, build and implement real solutions to campus problems, spur on behaviour change through fun initiatives like Do It in the Dark, create space for conversations around sustainability at UBC, and work to build a learning structure which incorporates sustainability into all classes.
As a network of strong student change-makers, we also work with our members to develop exceptional leadership skills as well as transferrable skills for the future. Our partnerships with the province-wide goBEYOND Project, UBC RezLife, the UBC Campus Sustainability Office, and the UBC Global Lounge (as well as many more) allow Common Energy to better work towards our goals on campus.
Our City of Colours is a community-based project that aims to increase the visibility of lesbian, gay, bisexual and queer people in a variety of linguistic and cultural communities in the Metro-Vancouver area. In our capacity as a grassroots project, we are committed to creating and distributing media, including posters and other visual materials, that are intended to positively raise the profile of visible minorities who self-identify as LGBTQ in the Lower Mainland.
---